Webshop
Exclusief topSlijter
Aanbieding
Dutch Head Rum The Bastard Edition 8 year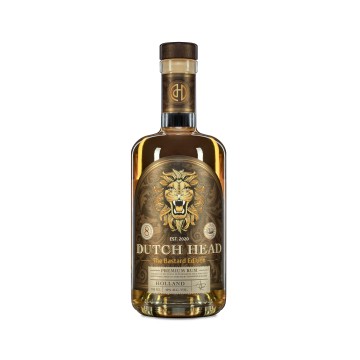 The start or origin of our story develops as our still heats up, at the lower boiling point compounds evaporate which include methanol, acetaldehyde and lighter esters. This cut which we call "the foreshot", shouldn't be consumed, especially methanol is toxic to humans.

Hereafter our distillation spits out what distillers call the "heads", the overall aroma of these chemicals is not very pleasant. Naturally, it isn't something we want to have much, however a little bit of "heads" can create some complexity in the spirit down the line.

After the distiller has decided that the quality of the incoming distillate is at it's peak, we will cut to the "hearts". Hearts are what will become the finished product, they contain the ethanol we want, along with flavors and aromas that makes it unique.

Both the complexity and unique taste is what Dutch Head is all about, a rum which is a little complicated and one-of-a-kind, you might say it is just like a woman.

All good things must come to an end, however. Eventually the emerging "hearts" distillate will steadily take on unpleasant aromas and flavors, sometimes even develop some bitterness.

We call the last part of the distillation the "tails". Just like the "heads", tails will be for a large part disposed of or re-distilled to collect more alcohol, so whatever direction our story goes we will always end on a positive note.
In winkelmand
Etiketinformatie
Land van Herkomst

Nederland

Inhoud

70 CL

Alcoholpercentage

40% vol

Kleur

caramel bruin

Geur

mooi zachte zoete rum tonen

Smaak

licht zoetig. licht fris maar pittig gekruid

Afdronk

lang en aangenaam blijft zoet
Er zijn nog geen reviews geplaatst voor dit product