Webshop
Exclusief topSlijter
Aanbieding
Whiskydudes Staoisha 2014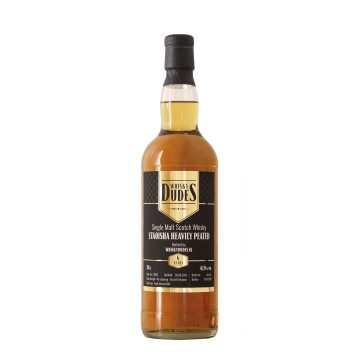 About five years ago a pack of three passionate whisky enthusiasts joined forces and started building a portfolio of great casks. Our philosophy has always been offering whisky lovers good value for money whisky's. Simply said; if we don't approve we won't bottle. We'd rather sell a cask and take a loss than build a questionable Indie reputation.

Since the early Whiskydudes days, that were mostly about seeking great casks, things have changed a bit. It's no longer a pack of three, heck, it isn't even a pack of two anymore, it's just one Whiskydude remaining. So, what happened there….? Well, it's mostly a change of focus for the two guys stepping back, so no hard feelings here, Soren and Peter are still helping out when it comes to tasting and judging samples. Going solo shortens the lines in the cask seeking process significantly by the way, chances of missing out on great and great priced casks (now that's a contradiction…) drop when DMU is a one man job….

The Whiskydudes casks are currently maturing in Scotland (of course) and are closely monitored; whisky's that we feel are coming close to the point of bottling are sampled with timespans from 3 months to a year. We strongly believe cask type selection is a huge part of creating a great whisky and therefore we select our casks we use for re-racking only at well-known and trustworthy suppliers, like Speyside Cooperage and Lusobarrel Cooperage. We'd rather pay double the price for superb wood than take a risk with some cheap Portuguese ex sherry casks that might already be empty for years and years….. We don't believe in (short) finishing just to add some commercially attractive colour, we only re-rack if we are convinced, after numerous sample tastings, our whisky would significantly benefit from being transferred to a different cask. We will always be totally transparent what happened to the whisky; exact information on type of casks and timespan of maturation will always be on our label.
onbekende botteling van een beroemde distileerderij van Noordelijk Islay
€ 
64,99
Fles
Huidige voorraad: 3
Plaats in winkelmand
Etiketinformatie
Land van Herkomst

Schotland

Inhoud

70 CL

Alcoholpercentage

61.9% vol
Er zijn nog geen reviews geplaatst voor dit product